Canterbury Country
A continuing series of monthly Country Music shows that go under the banner of 'Canterbury Country'.
On the second Thursday of each month, 8pm at Canterbury-Hurlstone Park RSL Club. Check the main page to see who the guests will be each month, and make a regular date for some good music.
Enjoy the photos below from the SECOND year of 'Canterbury Country'.

---
SHOW #25




KEITH GLASS & MICK HAMILTON
with LINDA MAREE MILLER
plus the 15-year reunion of
THE MIGHTY GUYS ('87 model)



| | | |
| --- | --- | --- |
| | | Photo with Linda by Bob Howe - Mighty Guys pix by Terry Phillpot |
---
SHOW #24

In April a packed house enjoyed a great show when we went 'MOSTLY ACOUSTIC - a night of Country and Bluegrass' with the Sydney Album Launch of Blue Mountain Rain
by KAREN LYNNE & MARTIN LOUIS, with ACOUSTIC SHOCK. They were joined on harmony by Karen's sister Elizabeth Frencham, pictured right with brother-in-law Martin Louis.
Also on the bill - virtuoso Melbourne instrumentalist NICK CHARLES. The Hillbilly Heaven band were joined by special guest fiddler WAYNE GOODWIN (pictured below) and pianist Naomi Coggan got into the acoustic spirit with some spirited cajun accordian playing. Photos by Bob Howe (and below right, Terry Phillpot)

---
SHOW #23


Camille Te Nahu, Josh Canning, Audrey Auld

Allan Tomkins and Craig Giles

Photos by Bob Howe

Thursday March 14th, 2002
Canterbury Country presented
Bold & Beautiful, Young & Restless which starred CRAIG GILES, CAMILLE TE NAHU,
JOSH CANNING, and WAYNE LAW...
with surprise guests Audrey Auld, Andy Morgan and Carter & Carter...




...and featured the presentation of
2002 FRANK IFIELD SPUR AWARD in association with The Galston Country Music Festival. The award was presented to Wayne Law. CLICK HERE for more information on the Award and photos...and CLICK HERE for sensational photos of the night by Terry Phillpot.
---
SHOW #22


February 2002 - Canterbury Country presented A TAMWORTH RECOVERY PARTY
to a huge audience. The show featured BROOKE LEAL, THE MURRAY HILL BILLIES (Murray Hill, Rod Coe, Robbie Souter, Gary Brown, Colin MacIntosh), BOB HOWE and the HILLBILLY HEAVEN Band, and many surprise guests direct from the Tamworth Festival! They included Peta Caswell, Bryen Willems and Wendy Costello, (Victorian Country Music Awards 2002 VICTORIAN MALE VOCALIST OF THE YEAR) Tim Wood, Teri St. Neil, Linda Maree Miller, Lee Forster, Wayne Horsburgh, Phil Cole, Les Scott and a special performance by the incredible Karen O'Shea. Thanks to Terry Phillpot (Eyeball Photographics) for this month's photos. Lots more photos HERE and HERE!!

---
---

SHOW #21
January 2002 - We started the New Year with a bang!
YODELLING FEVER
Country Yodelling And Western Music
starring (below left)
WAYNE HORSBURGH, JUDY ANNE BARNES,
and, (below right),
ANGELA HAYDEN and hilarious fiddler
WAYNE GOODWIN.

---
SHOW #20

Dec 2001 - COUNTRY AT CHRISTMAS

Pictured left: LESLIE AVRIL meets the man in the red suit.

Below left: DALE JUNER, LYN BOWTELL and DUNCAN TOOMBS with their TOMKINS GUITARS.

Below right: Joining in on the Christmas songs, Bryen Willems and Wendy Costello. Listen for Bryen playing Country Music on Radio 2RRR-FM (Fridays 5-7pm and Sundays 6-8am).

---
SHOW #19

November 2001,
Canterbury Country presented
THE HUNTER VALLEY PTA
Country Music Stars from the North, starring
CATHERINE BRITT,
ALBY POOL and
DONELLA PLANE.


Lending a hand were surprise guests and Hunter boys
- Josh Canning, Ben Conicella, Dale Gardner, Chad Plane.
---
SHOW #18


October 2001 - Canterbury Country - the TOMKINS GUITAR SHOWCASE.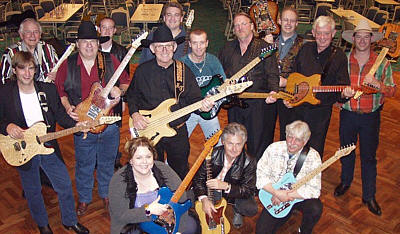 featuring (front row L to R) LYN BOWTELL, KEITH GLASS, JACK PLEDGE, (standing L to R) DWAYNE ELIX, GEOFF MACK, ALBY POOL, JOEL OAKHILL, ALLAN TOMKINS, DUNCAN TOOMBS, PAUL LINES, ALLAN CASWELL, BOB HOWE, MIKE MOORE, LEE FORSTER, (not pictured) MARY HEARD, LES SCOTT, DALE GARDNER, the Hillbilly Heaven band and lots of surprise guests. What a night! Check the TOMKINS GUITAR WEB SITE soon for more pics.

---
SHOW #17


In September 2001, Canterbury Country presented 'The HANK WILLIAMS Birthday Bash' ...an all-star tribute to the legend. It featured KIM CHESHIRE, DWAYNE ELIX, KEITH GLASS, AUDREY AULD, CRAIG BYRNE, CATHERINE BRITT, BROOKE LEAL, MARY HEARD, KAREN O'SHEA, JOSH CANNING, MURRAY HILL, SWEENEY~KILLEEN, MERRIL PERERA, DALE JUNER and surprise guests Les Scott and Robbie Souter. Music by Bob Howe & the Hillbilly Heaven band, with special guest fiddler, Wayne Goodwin (ex-Emmylou's Hot Band). Special thanks to Universal Music for the Hank Williams CD prize giveaways, including the new Tribute album 'Timeless'.
CLICK HERE for Photos and the Set List!

---
SHOW #16

AUGUST 2001:- DARCY LEYEAR is the vocalist for a great Australian Country band who were blitzing the ARIA pop charts at the time. PRU CLEARWATER can often be seen presenting a tribute to an International Country star.
DANIEL THOMPSON is half of the popular duo 'Rustic Soul'. In AUGUST we saw DARCY, PRU and DANIEL (pictured right) performing in their own right, and deputising on bass, on loan from the Bushwackers (pictured left) Roger Corbett.

---
SHOW #15

July was the time for GORGEOUS GIRLS WITH GOLDEN GUITAR! Yes, Vocal Duo of the Year THE CROSBY SISTERS hit 'Canterbury Country'. Also making a featured appearance was KEITH GLASS,
who launched his brand new album 'Australian Soul' and sang some of his Country chart hits! Click on the album cover to find out more and order your copy NOW! We were also treated to a surprise vocal visit by Peta Caswell and deputising on bass, on loan from the Slim Dusty band, Mr Rod Coe.

---
SHOW #14


The June show starred, from left to right, rising star Camille Te Nahu, and the welcome return of Brent Parlane, performing songs from his new album 'Good Man Down' which was produced by Nash Chambers. Completing the line-up, and riding high on the International success of her album 'The Fallen', was Audrey. It was 'back by popular demand' for Audrey too, who was the star of the very first 'Canterbury Country' show!

---
SHOW #13

The May 2001 show was our first birthday! Starring on that night were Craig Giles and Raebekah Roycroft (above left), and Doug Rowe, pictured above right with guitar, renewing a 30 year old acquaintance with Keith Glass. Although both now ensconced in the Country Music scene, in former lives as Aussie rockers, Doug was a member of Flying Circus, while Keith was in Campact.

---
Where did all the other photos go...?
*CLICK HERE* to see all the photos from the first year of Canterbury Country, including:- Hillbilly Heaven, Craig Byrne, Teri St. Neil, Donna & Doug Boyd, Gary Fredricks, Wayne Horsburgh, Judy Anne Barnes, Mary Heard, Terry Murray, The Frank Ifield Awards, Wendi Jackson, Don Spencer, Karen Lynne, Kel-Anne Brandt, Michael G. Carr and Nikki Bennett, Leslie Avril, Alby Pool, Catherine Britt, the Feral Swing Katz, Lyn Bowtell and the Southern Steel band, Nicole Brophy & Jodi Moore, Wayne Law, Darren Coggan, Peta Caswell, Frank Ifield, Paul Fisher, Keith Glass, Dwayne Elix, Felicity, Daniel Thompson, Brooke McClymont, Leesa Gentz (with Kristy Gentz and Tameaka Fairfull), Brent Parlane, Tamara Stewart, Chris Staff, Col Finley, Rosemary Rae, Darcy LeYear, Tracey Faith, James Gillard, Jill French, Audrey Auld, Brendan Marolla and Brooke Leal and many more...
Visit the Canterbury-Hurlstone Park RSL Web site or return to Cowboys In Cybersp@ce.
---
BACK TO TABLE OF CONTENTS
---